Μενού / Menu
Ποικιλία / Greek Sampler Plate (MEATLESS) $10.00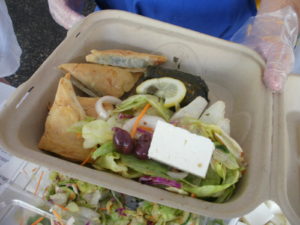 TYROPITA (2 PHYLLO-WRAPPED CHEESE TRIANGLES), DOLMATHES
(2 RICE-STUFFED GRAPE LEAVES), SPANAKOPITA (2 PHYLLO-
WRAPPED SPINACH/CHEESE TRIANGLES), GREEK SALAD, FETA
CHEESE, GREEK OLIVES, BREAD
Kοτόπουλο / Chicken Dinner $10.00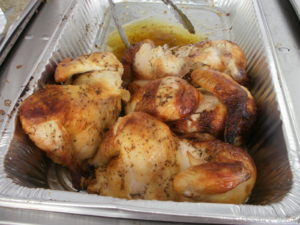 HALF LEMON-OREGANO CHICKEN, RICE, GREEK SALAD, FETA CHEESE, GREEK OLIVES, BREAD
Aρνί /Lamb Dinner $15.00
ROASTED LEG OF LAMB, RICE, GREEK SALAD, FETA CHEESE,
GREEK OLIVES
Γύρος / Gyro Sandwich $8.00
GYRO MEAT, TOMATOES, ONIONS, TZATZIKI (YOGURT-
CUCUMBER SAUCE), PITA BREAD
Πατάτες τηγανιτές / Greek Fries $3.00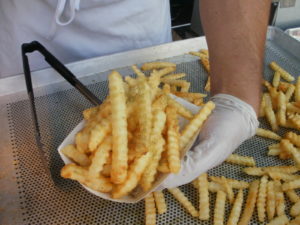 CRINKLE CUT FRIES WITH GREEK SPICES
Σπανακόπιτα / Spinach Pie $8.00
DINNER-SIZED PHYLLO-WRAPPED SPINACH/CHEESE PIE, SERVED WITH GREEK SALAD.
Greek Coney Dogs $4.00
BEEF HOT DOG WITH GREEK CONEY SAUCE (PUREED BEEF AND
SPICES) SERVED WITH ONIONS AND MUSTARD. (PLAIN: $3.00)
Loukoniko Brat $5.00
GREEK SAUSAGE WITH SPICES AND ORANGE ZEST.
Σαλάτα/Greek Salad $7.00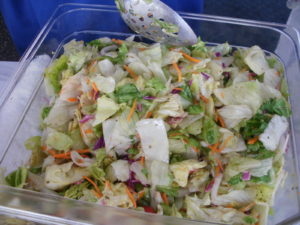 MIXED GREENS, GREEK OLIVES, FETA, ONIONS, CUCUMBERS
WITH GREEK DRESSING. SERVED WITH BREAD.
Λουκουμάδες / Loukoumades / Honey Puffs $5.00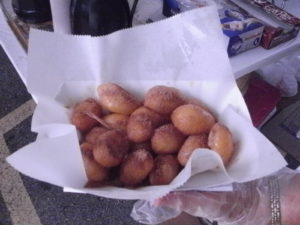 Γλυκά / Pastries: DOWNSTAIRS – VARIES in pricing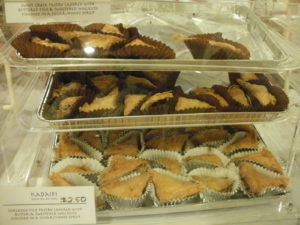 ASSORTED GREEK AND OTHER ETHNIC PASTRIES
*********************************************
ΠοτάBeverages
Water (Bottle) $1.00
Soft Drinks (Cans) $1.00
Sno-Cones $1.00
Beer
Draft / Domestic – Cup $3.00
Draft / Domestic – Pitcher $9.00
Craft Beer / Draft – Cup $4.00
Craft Beer / Draft – Pitcher $12.00
Wine
Glass $4.00 / $6.00
Wine Flights $6.00
Bottle $16.00 / $20.00
Available Downstairs in the Café
Coffee $1.00
Greek Coffee $3.00
Greek Frappé Coffee (Foamed Iced Coffee) $4.00